Hymnology (per definition) is the study of religious songs or hymns in light of the many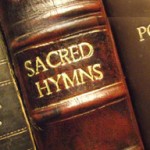 aspects of hymns; particularly focusing on choral and/or congregational singing.  If you were a student of hymnology, you would most likely be studying one or more of the following components of Christian songs:
The history, origin and traditions of hymns sung in worship

The biographies of the men and women who have written some of our hymns

The relationship that is shared between the text of a hymn and it's tune

The historical processes, both folk and redactional (rewriting), that have changed hymn texts and tunes over time.
For the next several months, this page will uncover the hymnology of some of our favorite songs.  We'll look at some traditional as well as some contemporary songs and determine the soundness of each.  Share your thoughts, ask a question or just let us know what you think about this site…your feedback can only make things better.