Change isn't easy!  As a matter of fact, Sydney Harris, an American journalist for the Chicago Daily News once said,

"Our dilemma is that we hate change and love it at the same time; what we really want is for things to remain the same but get better."
Change can be hard to face at times and yet if we want to grow, we have to change.  For things to sincerely 'get better', they can't stay the same.  This week my daughter (a senior in HS) went with me to the office.  As we talked about the changes in our family, big brother is now in college, I reminder her that we ALL change.  She wasn't going to always be my little blonde, curly haired 5 year old.  She was growing into adulthood and, if the Lord wills, would one day have a family of her own.  If we remain the same, that would be nice, but how could things hope to improve.  As a matter of fact, in our spiritual lives we sing the song, "Change My Heart of God".  If we want our lives to 'get better', we have to go through a metamorphosis (a change).  But why do we 'hate change?'  Perhaps it's because of the uncertainty that lies ahead.
How often I would like for things to 'just stay the same'.  Actually some folks take great strides to make sure things never change.  We are comfortable with the tried and true.  Not needing to 'wonder what will happen next' is a good thing…isn't it?  Let me direct you to another hymn that actually talks about the changes in our lives.  The transitions that we face in life.
Over 100 years ago Jennie Wilson penned a song that tells me what to do when uncertainty comes into my life.  I need to remember the words…
Time is filled with swift transition – naught of earth unmoved can stand (Nothing on earth can change this fact)
Build your hopes on things eternal, hold to God's unchanging hand. (The earth changes…God, eternal, does not)
Trust in Him who will not leave you, whatsoever years may bring, (God is constant, even with the changes in life)
If by earthly friends forsaken, still more closely to Him cling. (People let us down, God won't)
When your journey is completed, if to God you have been true (When life is over, and if you have been faithful)
Fair and bright the home in glory your enraptured soul (delight without measure) will view (Heaven's really good!)
Hold to His hand…to God's unchanging hand!
Hold to His hand…to God's unchanging hand!
Build your hopes on things eternal,
Hold to God's unchanging hand.
We will face changes in lif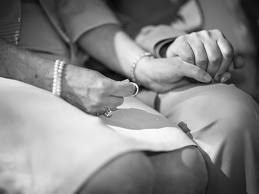 e and some of them will make us 'wish for the good ole days'.  But change will come and often it will come swiftly.  In a world that is created to 'change', hold fast to Him who created this world…He does NOT change.  James 1:17 "Every good thing given and every perfect gift is from above, coming down from the Father of lights, with whom THERE IS NO VARIATION or shifting shadow."  To put it simply…God doesn't change.
Children hold the hands of their parents because there is comfort in knowing someone is beside them.  We hold hands as couples to show our spouse (and others who might be watching) that we find comfort and security in our loved ones presence.  In a world that is 'swiftly transitioning', perhaps we should be looking to reach out and take hold of our Father's hand.  Changes will come into your life, but with God we will always find consistency.  Perhaps Mr. Harris was right, we do have a dilemma when it comes to change, but remember what he said, want we really want is for things 'to get better.'